Schedule
* 2021 Fireworks ONLY 6/12 * Separation Day Kickoff Party - Cancelled Friday, June 11, 2021
6-9:30pm in Courthouse Square
Enjoy live music, craft beer and food trucks in a block-party setting in front of the historic New Castle Court House. Admission is free. Food and drink will be available for purchase with tips benefiting New Castle's Minquadale and Goodwill volunteer fire departments.
Separation Day Parade - Cancelled
Saturday, June 12, 2021
starts at 11am in historic New Castle
The Separation Day Parade begins at 11:00 and culminates in front of the review stand in front of the Courthouse on Delaware Street. This Colonial inspired parade features re-enactors, bands, dance teams, classic cars, local sports teams and non-profits.
Colonial BBQ Competition and Separation Day Festival - Cancelled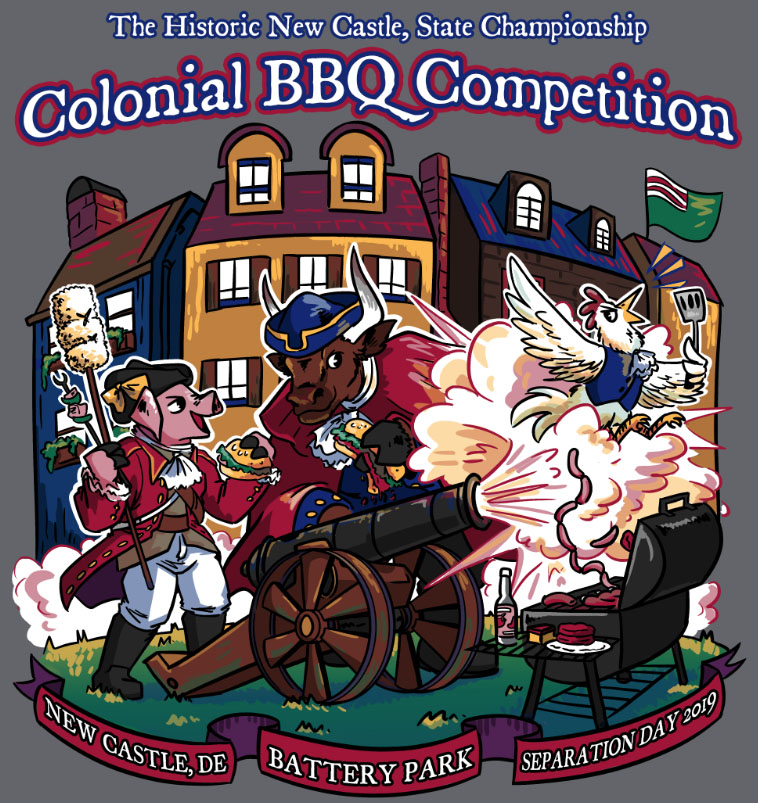 Saturday, June 12, 2021
starts at noon in Battery Park
Gates open at noon (immediately after Separation Day Parade) so come on in for great live music, arts & crafts, vendors, kids rides and attractions. BBQ and chicken wings will be for sale! In addition, New Castle-based nonprofits will be offering a wide variety of food and drink items (hamburgers, hot dogs, sausage and peppers, funnel cake and more!). The proceeds will benefit their organizations.
Download/View Map
Colonial BBQ Competition Application
Backyard BBQ Competition Application
prefer to download and mail in?
Download BBQ Applications
This year's competitors:
Backyard
Pro
Main Stage Live Music - Cancelled
Download/View Map
---
Admission fee from noon-5:00 pm is $10 for adults 21 and older. With admission fee, adults 21 and older (proof of ID required) will receive a drink ticket entitling them to one alcoholic beverage (a 16oz beer, a glass of wine, or a specialty cocktail) or two bottles of water. Admission is free for those under 21—children must be accompanied by an adult. This year, there will be no charge for kids rides and attractions.
Live bands will be performing noon to 9:30pm. Admission is free after 5pm. The festival culminates with a spectacular fireworks display over the Delaware River beginning approximately 9:30pm.
The teams competing in the BBQ competition love to talk about what they do, so please do not be shy! Teams will start cooking late Friday night and begin turning in their finished entries to the trained, certified judges of the Kansas City BBQ Society beginning at at noon on Saturday. Their final submissions must be turned in at 1:30pm.
Want to taste competition BBQ? Most of the teams will compete in a People's Choice Competition- that's more than 25 pro teams along with the backyard barbequers! Purchase tastings of Pulled Pork for $1 each and vote for the one you like best! The winning team wins a cash prize.
Interested in being a judge someday? Contact KCBS at www.kcbs.us and find a nearby training class.
Thank you! Your admission fee helps underwrite this event. All net proceeds benefit Separation Day.
Separation Day Committee | 220 Delaware St, New Castle DE 19720 |
(302) 322 9801
| jwenger@eventallies.com